POSTED |
May 7, 2019 - PHPS
Media Release
7th May 2019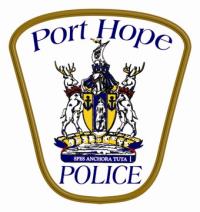 Bail Violations
A Port Hope man previously charged with domestic related incidents was arrested on May 2nd for failing to comply with conditions of his release. The man, who was charged earlier in April 2019, was compelled by court order to remain away from a west end residence. On May 2nd it is alleged he attended that residence and communicated with a former spouse. He is charged with 2 counts of failing to comply with conditions of a recognizance. He was held for a bail hearing. No names will be released to protect the identity of the victim.
Mischief charges laid.
A 20 year old Port Hope man was arrested in the early morning hours of May 4th after Port Hope Police responded to a disturbance in the down town core. At around 2:25am Police arrived on scene at the down town apartment building and noted a small amount of blood covering the front step. Police located an intoxicated male with a cut hand. Information was received this man and a woman, described as his girlfriend, were involved in an argument in their apartment. The argument became heated when the man allegedly smashed an apartment window. He was taken into custody at the scene and is charged with mischief and liquor offences. He appears in court in June. No names will be released to protect the identity of the victim.
Woman charged with assault for spitting.
A 28 year old Niagara Falls woman is facing a charge of assault which is alleged to have occurred during a driving dispute. On the 6th of May shortly after 7:00pm the complainant was in the drive thru at Tim Hortons on Toronto Road in Port Hope. After she purchased her beverage she exited the drive thru and parked to the side of the driveway. The accused drove up behind the woman and honked the vehicle's horn at her indicating her to move her vehicle. The complainant signaled this woman to drive around her. The accused pulled beside her and began yelling and swearing. She then pulled her vehicle in front of the lady and approached her car window and continued the verbal argument during which she allegedly spat in the complaint's face and mouth. Brittany Lynn Bemma is charged with assault and appears in court in June.