Welcome to Port Hope Police Service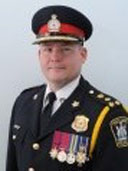 I would like to welcome you to the Port Hope Police Service's website. Here you will find links and other information such as our services to the public, crime prevention and our latest press releases to assist us to stay connected to our residents and visitors alike.
Our police officers and civilian support staff are very proud to provide excellent community-based policing services to this great Municipality. We work hard every day to ensure the safety and quality of day-to-day life expected by the citizens of Port Hope.
---
News
POSTED |
June 9, 2021 - K Andrews Port Hope Police
SCAM ALERT
PHPS
Scam Alert
A local women has fallen victim to a scam. On June 5, 2021 the victim received a random text message saying " Looking for carriers to work for me, if interested call me for further information". The text message mentioned the male needed trustworthy and honest people who would be willing to transport various amounts of money between $1000.00 to $5000.00 dollars to his customers and that the person needed to be open minded. The victim responded asking for information. The victim was told a driver would show up with certified cheques for cash.
The victim ended up withdrawing over $27,000.00 dollars from her account as well as borrowing money. The victim met up with the driver outside the Port Hope Royal Bank On Monday June 6, 2021.
Please do not fall victim to these frauds. Please call us. We are open 24/7, you can call 905-885-8123 and press 3 for our dispatch, or email phps@phps.on.ca or call Crime Stoppers at 1-800 - 222- TIPS (8477) . We do not want our community members being the victim of these crimes.
Thank you to the community for staying home. If you feel you or someone you know could use some help during these difficult times Port Hope Police can offer mental health help through our Mental Health Engagement and Response Team (MHEART). Please reach out to us at 905-885-8123, or 911, or email phps@phps.on.ca. We want to help you.
Follow Port Hope Police on twitter, Instagram and Facebook