Welcome to Port Hope Police Service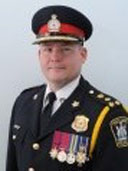 I would like to welcome you to the Port Hope Police Service's website. Here you will find links and other information such as our services to the public, crime prevention and our latest press releases to assist us to stay connected to our residents and visitors alike.
Our police officers and civilian support staff are very proud to provide excellent community-based policing services to this great Municipality. We work hard every day to ensure the safety and quality of day-to-day life expected by the citizens of Port Hope.
---
News
POSTED |
May 26, 2021 - K Andrews Port Hope Police
Three Injured
PHPS
Head on Collision
Three people were injured after a two vehicle collision occurred around 4:30 pm, May 25, 2021 at Jocelyn Street and Victoria Street, Port Hope, Ontario. A black Nissan with two male occupants were travelling eastbound on Jocelyn Street, Port Hope, Ontario, and a white Toyota Corolla was travelling westbound on Victoria Street, Port Hope, ON. Witnesses report the black Nissan may have crossed over the yellow centre line hitting the Toyota. The driver of the Toyota observed the Nissan and tried to swerve out of the path of the Nissan, but was struck on the passenger side. All parties were transported to Northumberland Hills Hospital with non life threatening injuries. The Ontario Provincial Police Traffic Reconstruction Unit were called to assist. The investigation is ongoing.
Thank you to the community for staying home. If you feel you or someone you know could use some help during these difficult times Port Hope Police can offer mental health help through our Mental Health Engagement and Response Team (MHEART). Please reach out to us at 905-885-8123, or 911, or email phps@phps.on.ca. We want to help you.
If you have a crime to report to please call 905-885-8123, or email phps@phps.on.ca or call Crime Stoppers at 1- 800-222-TIPS (8477) .
Stay home be safe!
Follow Port Hope Police on twitter, Instagram and Facebook