Welcome to Port Hope Police Service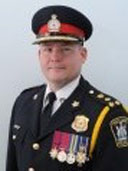 I would like to welcome you to the Port Hope Police Service's website. Here you will find links and other information such as our services to the public, crime prevention and our latest press releases to assist us to stay connected to our residents and visitors alike.
Our police officers and civilian support staff are very proud to provide excellent community-based policing services to this great Municipality. We work hard every day to ensure the safety and quality of day-to-day life expected by the citizens of Port Hope.
---
News
POSTED |
May 3, 2021 - PHPS
Port Hope Police
PHPS
Causing unnecessary suffering to an animal
A women has been charged with causing unnecessary suffering to an animal. The animal's owner had her dog tied outside when the neighbour picked up dirt and purposely threw it at the dog's face while yelling at the dog owner " get your dog out of here". As a result Maria Toste was given an appearance notice to appear in court in May to answer to the charge.
A reminder to the community to stay home. Do your part to help flatten the curve. Port Hope Police will not be arbitrarily stopping a vehicle or pedestrian for the sole purpose of asking where you are going, but if you are in contravention of the stay-at-home order and we find you in a restricted place you may face charges under the Emergency Management and Civil Protection Act.
If you have a crime to report please call 911, or email phps@phps.on.ca, or call Crime Stoppers 1-800-222-TIPS (8477)
Follow Port Hope Police on twitter, Instagram and Facebook