Welcome to Port Hope Police Service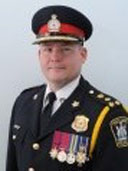 I would like to welcome you to the Port Hope Police Service's website. Here you will find links and other information such as our services to the public, crime prevention and our latest press releases to assist us to stay connected to our residents and visitors alike.
Our police officers and civilian support staff are very proud to provide excellent community-based policing services to this great Municipality. We work hard every day to ensure the safety and quality of day-to-day life expected by the citizens of Port Hope.
---
News
POSTED |
April 18, 2020 - PHPS
Two man arrested and charged in two seperate domestic incidents
18 April 2020

Domestic assault charges filed by Police in two separate incidents
A 38 year old man is facing numerous charges after Port Hope Police commenced an investigation into domestic incidents that spanned over several days. The investigation concentrated on events between April 11 and 16 where the accused male and his spouse were involved in arguments. The allegations include the victim being physically assaulted and her personal property being destroyed. The assaults included being hit with a boot and spat on. The accused was arrested on the 16th of April shortly after 1:00am after Port Hope Police responded to a down town apartment building because of a report of a woman screaming. The man is charged with assault with a weapon, 2 counts of assault, mischief to property and breach of probation. He appears in court later in June. No names will be released to protect the identity of this victim.
In a separate incident a 29 year old Cobourg man was arrested on the 17th of April after Port Hope Police commenced an investigation into several domestic incidents involving his former girlfriend. The man is already facing assault and threatening charges filed in 2019 against this victim and since then continued to make contact with her. During those contacts it is alleged the accused continued to threaten and assault the victim including an incident where he choked her. This man is no charged with two counts of assault, two counts of criminal harassment, failure to abide by his bail conditions and intimidate of a witness. He remains in custody pending a show cause hearing. Police will not release his name in order to protect the identity of the victim
Follow Port Hope Police on twitter, Instagram and Facebook