Welcome to Port Hope Police Service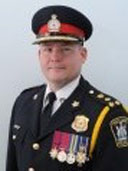 I would like to welcome you to the Port Hope Police Service's website. Here you will find links and other information such as our services to the public, crime prevention and our latest press releases to assist us to stay connected to our residents and visitors alike.
Our police officers and civilian support staff are very proud to provide excellent community-based policing services to this great Municipality. We work hard every day to ensure the safety and quality of day-to-day life expected by the citizens of Port Hope.
---
News
POSTED |
June 6, 2019 - PHPS
Media Release
Internet Fraud/Man charged with sexual offences

Fraud Alert
Port Hope Police are warning residents to be aware of a pay pal scam that a Port Hope resident fell victim to. The resident was attempting to upgrade his Pay Pal account and googled the administration number. He viewed a web site identifying as Pay Pal and dialed the administration number. He was told by an individual that his account had been compromised and that he needed to send a prepayment in order that it could be fixed. He was told for "ease sake" to send google play cards. The individual purchased some cards and sent the codes in. He was then contacted and asked for more money at which time he realized he was scammed. Port Hope Police are advising no legitimate organization will request payment in Google Play cards or other internet currency. Further residents are advised to be careful when utilizing internet browsers to locate phone numbers. Most time they are accurate but as seen here sometimes they are not.
30 year old man facing charges for sexual offences
A part time member of the Port Hope Air Cadet Squadron is facing charges after Port Hope Police commenced an investigation concerning a complaint. The complaint centred on an inappropriate relationship between this member and a female associated with the organization, spending time together outside of air cadet activities. Port Hope Police began the investigation May 29th resulting in the arrest of the member June 4th. Part Time Captain Michael Pellerin-Huffman 30 years old of Port Hope is charged with Sexual Exploitation and Sexual Assault. He appears in court In July. No further information will be released in order to protect the identity of the victim.
END