Welcome to Port Hope Police Service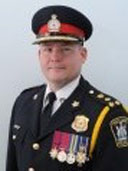 I would like to welcome you to the Port Hope Police Service's website. Here you will find links and other information such as our services to the public, crime prevention and our latest press releases to assist us to stay connected to our residents and visitors alike.
Our police officers and civilian support staff are very proud to provide excellent community-based policing services to this great Municipality. We work hard every day to ensure the safety and quality of day-to-day life expected by the citizens of Port Hope.
---
News
Press Release
Port Hope Police responded to a drug driving call. At 8:28 am on May 14, 2019 Port Hope Police received a call of a possible impaired driver westbound on the 401. The vehicle was observed to be swerving in and out of the designated lane. The vehicle turned southbound onto Ontario Street, Port Hope.The vehicle was located a short time later in the parking lot of the Petro Canada. Mr. David Andrew McPhee, 18 November 1967, of Pembroke Ontario was arrested for Impaired Driving. Mr. McPhee was charged with Impaired driving by drug. He was also charged with Possession of Cocaine, and Driving while under suspension. Mr.McPhee will appear in court to answer to the charges on May 29, 2019.
Port Hope Police want to remind drivers not to drink, drug or both as serious penalties come with it.