Welcome to Port Hope Police Service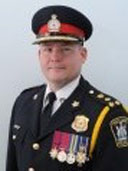 I would like to welcome you to the Port Hope Police Service's website. Here you will find links and other information such as our services to the public, crime prevention and our latest press releases to assist us to stay connected to our residents and visitors alike.
Our police officers and civilian support staff are very proud to provide excellent community-based policing services to this great Municipality. We work hard every day to ensure the safety and quality of day-to-day life expected by the citizens of Port Hope.
---
News
POSTED |
March 12, 2019 - PHPS
Media Release
March 12 2019
A 39 year old Port Hope woman is facing impaired by alcohol or drug charges after Port Hope Police responded to vehicle that had left the roadway. On March 8th 2019 at about 9:19am Police attended the Cavan Street and Jocelyn Street area and located vehicle that was down the embankment on the east side of Cavan. The vehicle went through the brush and small trees stopping just before the Rotary Park Baseball Diamond. Ambulance and Fire officials also were at the scene assisting with the incident. After a Police investigation it is alleged that the female was impaired by alcohol or drugs. Tanya Carson is further charged with possession of a schedule 1 substance. She appears in court later in March. Damage to the vehicle moderate there were no injuries reported.