Welcome to Port Hope Police Service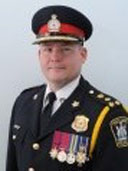 I would like to welcome you to the Port Hope Police Service's website. Here you will find links and other information such as our services to the public, crime prevention and our latest press releases to assist us to stay connected to our residents and visitors alike.
Our police officers and civilian support staff are very proud to provide excellent community-based policing services to this great Municipality. We work hard every day to ensure the safety and quality of day-to-day life expected by the citizens of Port Hope.
---
News
POSTED |
October 19, 2019 - PHPS
Media Release
19 October 2019

Mischief to Vehicle.
Port Hope Police were called to a Cavan Street residence on the 12th of October regarding a mischief complaint. The resident there reported her vehicle damaged over night the 11/12 of October. Someone during that time smashed the rear window of her SUV and broke the door handle. Damage is estimated to be over $1000.00. Anyone with information is asked to call Port Hope Police, email phps@phps.on.ca or contact Crime Stoppers
Man charged in connection with thefts from vehicles reported in September 2019
A 27 year old Cobourg man is facing numerous charges in connection with vehicle entries reported at the end of September. A number of vehicles in the Brown Street area and other locations were entered in some cases money was stolen out of wallets left in the vehicle. There were also two incidents, Police believe, where there was an attempt to steal the vehicle. Police Investigators were able to identify the male with assistance of CCTV. Andrew Christian Drysdale is charged with 11 criminal offences including theft under $5000.00, attempt theft, breach of probation and failing to comply with conditions of a recognizance of bail.

Man charged with impaired operation of a conveyance.
A 63 year old Port Hope man was arrested October 17 shortly after 5:00pm after Port Hope Police received information of a possible impaired driver. Officers responded to the Ontario Street area and observed the man driving a Hyundai northbound on Hope Street turning west on to Jocelyn St. Police investigated the driver to determine his state of sobriety and ability to operate a motor vehicle. He was subsequently arrested for impaired operation of a motor vehicle. Investigation further revealed that the man was prohibited from driving a motor vehicle. Steven James Buntin is charged with impaired operation of a conveyance, refusing to comply with a breath demand and driving while disqualified. His vehicle removed from the scene and was impounded by police.
Follow Port Hope Police on Twitter @PortHopePolice and on Face Book and Instagram