Welcome to Port Hope Police Service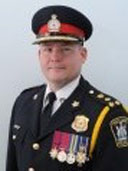 I would like to welcome you to the Port Hope Police Service's website. Here you will find links and other information such as our services to the public, crime prevention and our latest press releases to assist us to stay connected to our residents and visitors alike.
Our police officers and civilian support staff are very proud to provide excellent community-based policing services to this great Municipality. We work hard every day to ensure the safety and quality of day-to-day life expected by the citizens of Port Hope.
---
News
OPP Assisting Port Hope Police Service
OPP Assisting Port Hope Police Service  Sudden Death Investigation   (PORT HOPE, ON) – On Wednesday March 20, 2019 shortly before 11:30 p.m., Port Hope Police Service responded to Cavan Street in the Municipality of Port Hope to assist an unconscious male.     Emergency workers arrived to find the 52-year-old male with no vital signs. The male was pronounced deceased at the scene.  Port Hope Police Service requested the assistance of the Ontario Provincial Police (OPP) to investigate the circumstances surrounding this death.   The investigation is continuing by
March 21, 2019
Media Release March 19th, 2019
On Monday the 18th of March 2019, at about 8:25 am an employee at Lakeshore Physiotherapy arrived to work at the Port Hope Medical Centre located at 249 Ontario Street Port Hope Ontario.  Upon unlocking the front door of Lakeshore Physiotherapy and entering the office the employee observed the cash boxes laying on the floor surrounded by loose change. It was then the employee realized the business was the victim of a break and enter. Scenes of Crime officer attended the scene shortly after.  Video footage of the interior and exterior of the building was provided by the building manager.
March 19, 2019