Welcome to Port Hope Police Service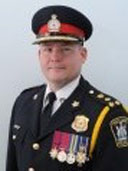 I would like to welcome you to the Port Hope Police Service's website. Here you will find links and other information such as our services to the public, crime prevention and our latest press releases to assist us to stay connected to our residents and visitors alike.
Our police officers and civilian support staff are very proud to provide excellent community-based policing services to this great Municipality. We work hard every day to ensure the safety and quality of day-to-day life expected by the citizens of Port Hope.
---
News
POSTED |
April 17, 2021 - K Andrews,
New measures
New measures
New measures announced
On Saturday April 17, 2021 the Government of Ontario announced several new measures aimed at curbing the rapid increase in Covid-19 cases. Included in the new measures were new authorities for police under the Emergency Management and Civil Protection Act which gives police the authority to stop any vehicle or pedestrian to find out why you are out.
The Port Hope Police Service will NOT be performing random vehicle stops of vehicles and pedestrians . We will continue to work closely with our local health unit, and our Municipality partners to ensure the safety of our community.
It is still very important to do your part to help flatten the curve and follow the new restrictions put in place.
If you have any questions please email phps@phps.on.ca
Follow Port Hope Police on twitter, Instagram and Facebook