Welcome to Port Hope Police Service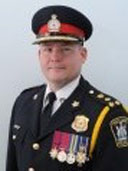 I would like to welcome you to the Port Hope Police Service's website. Here you will find links and other information such as our services to the public, crime prevention and our latest press releases to assist us to stay connected to our residents and visitors alike.
Our police officers and civilian support staff are very proud to provide excellent community-based policing services to this great Municipality. We work hard every day to ensure the safety and quality of day-to-day life expected by the citizens of Port Hope.
---
News
POSTED |
April 29, 2020 - PHPS
Drug investigation results in charges for two men.
29 April 2020

On the afternoon of Tuesday the 28th April the Port Hope Police Service Criminal Investigations Bureau entered into an investigation involving drug activity in the community. As a result two males were arrested and charged with possession of 2 grams of fentanyl and 2 grams of crack cocaine for the purpose of trafficking as well as possession of property obtained by crime, $500 cash. Charged are 33 year old Jeremy Donald King of Cobourg and David Gritt 37 years old from Oshawa. They both appear in court at the end of June 2020.
Follow Port Hope Police on twitter, Instagram and Facebook