Welcome to Port Hope Police Service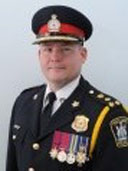 I would like to welcome you to the Port Hope Police Service's website. Here you will find links and other information such as our services to the public, crime prevention and our latest press releases to assist us to stay connected to our residents and visitors alike.
Our police officers and civilian support staff are very proud to provide excellent community-based policing services to this great Municipality. We work hard every day to ensure the safety and quality of day-to-day life expected by the citizens of Port Hope.
---
News
POSTED |
April 6, 2020 - PHPS
Meda Release
06 April 20

Man charged with assaulting former partner
A 22 year old man was arrested on 4th of April 2020 after Port Hope Police Officers were called to residence in Central Port Hope for a report of an assault. When Police arrived they located a man out front of the residence and a woman, believed to be a former partner, inside with visible injuries. She was transported by ambulance to hospital and treated for injuries she received as result of being assaulted by this male. Investigation revealed that although the couple was estranged they were living in the same residence. The man is charged with assault causing bodily harm and was held in custody for a bail hearing. The name of the accused is being withheld to protect the identity of the victim.
Woman charged with causing a disturbance and assaulting Police Officers.
A 33 year old Port Hope woman is facing several charges after Port Hope Police were called to a down town apartment complex for a noise complaint on April 4th shortly after 10:00pm. When they arrived the located a woman yelling and swearing in the street. Failing to stop this behavior, Police arrested her for causing a disturbance. The woman began to resist officers' attempts to detain her. She was escorted to the Port Hope Police station to be processed for the charge at which time she continued to resist officers. She kicked two officers and bit another officer on the arm as they were trying to restrain her. The officer attended at Northumberland Hills Hospital to be treated for the bite wound. Lyndsy Lee O'Neill is charged with causing a disturbance and 3 counts of assaulting a police officer. She appears in court later in June.
Follow Port Hope Police on twitter, Instagram and Facebook