Welcome to Port Hope Police Service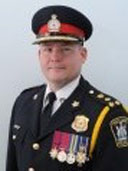 I would like to welcome you to the Port Hope Police Service's website. Here you will find links and other information such as our services to the public, crime prevention and our latest press releases to assist us to stay connected to our residents and visitors alike.
Our police officers and civilian support staff are very proud to provide excellent community-based policing services to this great Municipality. We work hard every day to ensure the safety and quality of day-to-day life expected by the citizens of Port Hope.
---
News
POSTED |
September 13, 2019 - PHPS
Media Release
13 Sep 2019

Mischief(s) reported
On the 10th of September shortly after 7:00am Port Hope Police were called to a Cavan Street residence after a vehicle owner noted his vehicle had been damaged. According to the complainant between 11:00pm the previous night and 5:00am the 10th of September a person or persons kicked a dent in the driver and passenger side doors, through garbage all over the vehicle and broke off the door handle. Damage is estimated in excess of $1,500.00. On the 10th of September a Centennial Drive resident reported her vehicle was completed covered with eggs. At least two cartons of eggs were dumped on the complainant's vehicle. Port Hope Police have not uncovered any information that these were targeted incidents. Anyone with information on these two incidents can email confidentially phps@phps.on.ca or call 905-885-8123 or contact Crime Stoppers.
KIJIJI Fraud
A West End Port Hope resident was defrauded out of $500.00 when he thought he was putting a deposit down on a vehicle that was being sold on KIJIJI. On the 10th of September the man found a vehicle for sale and began conversing via text messaging with what he thought was the owner. The man ended up sending an interact transfer to secure the purchase of the vehicle believed to be a 2003 Dodge Truck to a Gmail account. He attended an address in Mississauga but when he got there he was advised no such person lives there. When he tried to contact the seller he was blocked. Port Hope Police are continuing the investigation but warn the public to be wary of fraudsters who utilize buy and sell sites for fraudulent activity. If it sounds too good to be true it is most likely a scam.
Follow Port Hope Police on Twitter @PortHopePolice and on Face Book and Instagram