Welcome to Port Hope Police Service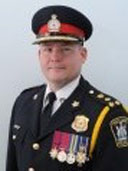 I would like to welcome you to the Port Hope Police Service's website. Here you will find links and other information such as our services to the public, crime prevention and our latest press releases to assist us to stay connected to our residents and visitors alike.
Our police officers and civilian support staff are very proud to provide excellent community-based policing services to this great Municipality. We work hard every day to ensure the safety and quality of day-to-day life expected by the citizens of Port Hope.
---
News
POSTED |
September 5, 2019 - PHPS
Media Release
5th Sept 19

A 44 year old Stirling man is facing several criminal charges involving his estranged wife. On the 2nd of September Port Hope Police commenced an investigation into an allegation of criminal harassment. The allegations involved repeated unwanted and at times threatening communications from the man towards his estranged wife and two other people. On the 4th of September 2019, the man was arrested in Cobourg. He is charged with 3 counts of criminal harassment and was held in custody for a show cause hearing. Police will not name the accused to protect the identity of the victims.
A 41 year old man is in custody after he breached a condition of his probation. The man was ordered to by way of a probation order to remain away from any residence known to be occupied by certain family members. On the 2nd and 3rd of the man was noted to be around the east end residence that he was ordered to remain away and shortly after 4:00pm he was located on Hamilton Road and taken into custody and is charged with failure to comply with a condition of a probation order. No names will be released to protect the identity of the family members.
Follow Port Hope Police on Twitter @PortHopePolice and on Face Book and Instagram