Welcome to Port Hope Police Service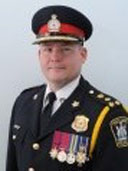 I would like to welcome you to the Port Hope Police Service's website. Here you will find links and other information such as our services to the public, crime prevention and our latest press releases to assist us to stay connected to our residents and visitors alike.
Our police officers and civilian support staff are very proud to provide excellent community-based policing services to this great Municipality. We work hard every day to ensure the safety and quality of day-to-day life expected by the citizens of Port Hope.
---
News
POSTED |
September 3, 2019 - PHPS
Weekend Up Date
Media Release

Man charged with numerous offences.
A 29 year old male is facing several charges after Port Hope Police were called to theft complaint. On the 30 of August 2019 Police received information that there was a surety warrant out for the man. The man also is alleged to have taken a digital camera from the residence of his form surety and tried to sell it at a buy and sell store in Cobourg. On the 1st of September Port Hope Police received information that the man was at the Comfort Inn in Cobourg. Police attended there and located the man in a vacant hotel room where he ran and locked himself in the bathroom. Police were able to talk the man into surrendering. Cody Puffer is charged with unlawfully in a dwelling, theft under $5000.00, possession of property obtained by crime and two counts of failing to comply with a condition of a recognizance of bail. He was held in custody for a show cause hearing.
Impaired by drug charges laid.
A 28 year old Warkworth Ontario woman is facing charges after Port Hope Police located her passed out behind the wheel of a motor vehicle. On the 2nd of September at 5:30pm Police were called to the Health Unit on Rose Glen Road after a witness noted a vehicle had been parked obscurely in a parking spot and had been there for some time. Police Officers located the woman sleeping behind the wheel with the vehicle running and tried to wake her. EMS was summoned and she was transported to NHH. Port Hope Police have charged Jocelyn Reid with operating a conveyance while impaired by alcohol or drugs, two counts of possession of a schedule 1 substance. She appears in court later in September
River Patrols continue into September
With the annual salmon run Port Hope Police are commencing dedicated river patrols checking for infractions under the Fish and Wildlife Conservation Act and other breaches of Provincial Offences. Since the night fishing ban commenced August 15 Port Hope Police officers have conducted 25 hours of foot patrol along the river and checked 100 fishing licences. The dedicated patrols will continue until September 30th
Back To School
Students of all ages head back to school today Port Hope Police are asking drivers pay attention to school bus operators and obey the school bus stop lights. Also the Municipality's six dedicated crossing guards are back at their posts. Port Hope Police are asking drivers to watch for them and stop for them when indicated
Follow Port Hope Police on Twitter @PortHopePolice and on Face Book and Instagram