Welcome to Port Hope Police Service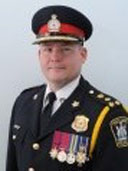 I would like to welcome you to the Port Hope Police Service's website. Here you will find links and other information such as our services to the public, crime prevention and our latest press releases to assist us to stay connected to our residents and visitors alike.
Our police officers and civilian support staff are very proud to provide excellent community-based policing services to this great Municipality. We work hard every day to ensure the safety and quality of day-to-day life expected by the citizens of Port Hope.
---
News
POSTED |
August 28, 2019 - PHPS
Media Release
28 August 2019

Grandparent Scam
An elderly couple narrowly averted being scammed out of thousands of dollars as a result of the grandparent scam or emergency scam. On the 27th of August they received a phone call from someone purporting to be their grandson saying he was in trouble and needed money as a result of getting in an accident. The couple took the information and tried to contact the grandson but was unable. They attended their financial institution to take out the cash and explained to the bank official why they needed the money. The institution contacted Port Hope Police who attended down to the bank to speak with the couple. No money was every exchanged. Port Hope Police are warning residents to be mindful of this scam and suggest the following. Do not rush and send money. Check out the information first try to contact the individual. Think about the scenario. Ask questions of the person calling that they would not know like middle names or simply hang up. When in doubt call local Police to for help.
Man charged for weapons offence
A 38 year old west end man is charged with several offences after he entered his estranged wife's residence with a knife. On the 27th of August shortly after 9:00pm, the man located the woman in the house and threatened her with knifepoint. He then left the residence. Police were called immediately and attended the area they located the man not far from the house. He was subsequently arrested. The man, whom Police will not identify in order to protect the victim's identity, is charged with weapons dangerous to public peace, unlawfully in a dwelling, 3 counts of failing to comply with a probation order and uttering threats. He was held in custody pending a show cause hearing
END