Welcome to Port Hope Police Service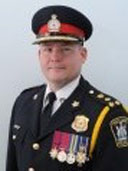 I would like to welcome you to the Port Hope Police Service's website. Here you will find links and other information such as our services to the public, crime prevention and our latest press releases to assist us to stay connected to our residents and visitors alike.
Our police officers and civilian support staff are very proud to provide excellent community-based policing services to this great Municipality. We work hard every day to ensure the safety and quality of day-to-day life expected by the citizens of Port Hope.
---
News
POSTED |
August 23, 2019 - PHPS
Friday's Media Update
23 August 2019

Break and Enter
Port Hope Police officers were called to a Hope Street South residence after the owner determined that someone unlawfully entered the residence and removed an exotic reptile. It is believed that between 6:30pm and 10:00pm the 22nd of August the incident occurred. There were no signs of forced entry. Taken was "Ball Head Python". Police are continuing the investigation. Anyone with information is asked to call Port Hope Police @ 905-885-8123, email confidentially @ PHPS@PHPS.on.ca or contact Crime Stoppers.
Attempt Scam foiled
A Port Hope resident was quick to determine a phone call from someone purporting to be a VISA representative saying his card was compromised was false. The person said they were from VISA security and stated the man's card had a $500.00 unauthorized transaction on it. The man did not provide any information to the individual and terminated the call. He then checked with VISA security and learned no transactions were on his card that was unauthorized.
Man arrested for being intoxicated
A 63 year old man was arrested late Wednesday after Port Hope Police responded to loud anglers near the mouth of the river by Cameco. Shortly before 11:00pm Police located a group in the area. A Barrie man was taking into custody for being intoxicated in a public area and held until sober at the Port Hope Police Station. He was fined and released later the next day.
Follow Port Hope Police on Twitter @PortHopePolice and on Face Book and Instagram