Welcome to Port Hope Police Service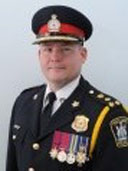 I would like to welcome you to the Port Hope Police Service's website. Here you will find links and other information such as our services to the public, crime prevention and our latest press releases to assist us to stay connected to our residents and visitors alike.
Our police officers and civilian support staff are very proud to provide excellent community-based policing services to this great Municipality. We work hard every day to ensure the safety and quality of day-to-day life expected by the citizens of Port Hope.
---
News
POSTED |
August 14, 2019 - Cobourg Police
Press release
Drugs

Cobourg Residents Face Drug Charges After Search Warrant
As part of our continuing joint drug enforcement operations, officers of the Cobourg Police Service and Port Hope Police Service executed a Controlled Drugs and Substances Act search warrant overnight at a George Street residence in Cobourg.
As a result of this investigation and search, police seized over 8 kilograms of marijuana with an estimated value of $83,669. As well, over 30 ounces of fentanyl were seized, with an estimated value of $15,400. Finally, $3,165 in cash was seized. Total value of the seizure is estimated at $102,234.
David Beesley, 48 years of age, of Cobourg is charged with:
Possess Cannabis for the Purpose of selling contrary to section 10(2) of the Cannabis Act
Possess schedule I for the Purpose of trafficking contrary to section 5(2) of the controlled drugs and substances act
Possess proceeds of property obtained by crime under $5000 contrary to section354(1)(a) of the Criminal Code
Fail to comply with probation contrary to section 733.1(1) of the Criminal CodeMeghan Angus, 37 years of age, of Cobourg is charged with:
Possess Cannabis for the Purpose of selling contrary to section 10(2) of the Cannabis Act
Possess schedule I for the Purpose of trafficking contrary to section 5(2) of the controlled drugs and substances act
Possess proceeds of property obtained by crime under $5000 contrary to section354(1)(a) of the Criminal Code
Possession of a weapon for a Dangerous Purpose contrary to section 88(1) of the Criminal Code
Possess proceeds of property obtained by crime under $5000 contrary to section354(1)(a) of the Criminal Code
Fail to comply with probation contrary to section 733.1(1) of the Criminal Code
The Port Hope Police Service encourages everyone to report any suspicious or criminal activity. If you have information that may help with an investigation, call Port Hope Police Service: 905-885-8123 or anonymously on the Crime Stoppers "Hot Line", available to callers 24 hours a day, seven days a week. If your information leads to a charge or an arrest, you may be eligible for a cash reward of up to $1,000.00. Crime Stoppers: 1-800-222-8477