Welcome to Port Hope Police Service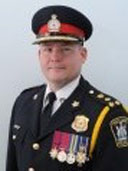 I would like to welcome you to the Port Hope Police Service's website. Here you will find links and other information such as our services to the public, crime prevention and our latest press releases to assist us to stay connected to our residents and visitors alike.
Our police officers and civilian support staff are very proud to provide excellent community-based policing services to this great Municipality. We work hard every day to ensure the safety and quality of day-to-day life expected by the citizens of Port Hope.
---
News

After a neighbour observed an older gentleman drop to his garage floor she began yelling out his name. When there was no response the woman ran across the street and began performing CPR. The female was heard yelling for assistance when another citizen ran over to assist. 911 was called and Paramedics utilized the Defibrillator. As a result of the quick actions it is believed it saved the man's life.
Port Hope Police thanks our Community for getting involved. Great job!