Welcome to Port Hope Police Service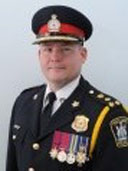 I would like to welcome you to the Port Hope Police Service's website. Here you will find links and other information such as our services to the public, crime prevention and our latest press releases to assist us to stay connected to our residents and visitors alike.
Our police officers and civilian support staff are very proud to provide excellent community-based policing services to this great Municipality. We work hard every day to ensure the safety and quality of day-to-day life expected by the citizens of Port Hope.
---
News
POSTED |
July 31, 2019 - PHPS
Media Release
31 July 2019

Stolen Vehicle Recovered
On the 30th of July 2019 Port Hope Police located a stolen vehicle on Bennett Court in Port Hope. The vehicle, a 2004 GMC Sierra Truck, was on file as stolen from the Northumberland OPP area the 24th of July. The vehicle was noted to have stolen plates on it also reported to the OPP on the 25th of July. Port Hope Police seized the vehicle. OPP investigators are continuing the investigation.
House Planter Stolen
A Ramsey Street resident reported a 3 foot cast iron planter stolen from the residence between July 29th and July 30th. The value of the property is $75.00. The planter was taken from the front porch area. Port Hope Police request anyone seeing suspicious activity or persons in their neighbourhood to call Police immediately.
END