Welcome to Port Hope Police Service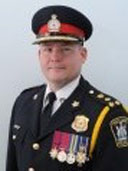 I would like to welcome you to the Port Hope Police Service's website. Here you will find links and other information such as our services to the public, crime prevention and our latest press releases to assist us to stay connected to our residents and visitors alike.
Our police officers and civilian support staff are very proud to provide excellent community-based policing services to this great Municipality. We work hard every day to ensure the safety and quality of day-to-day life expected by the citizens of Port Hope.
---
News
POSTED |
July 23, 2019 - PHPS
Crime Severity Index Statistics Canada
Media Release

The Crime Severity Index refers to a measure of police-reported crime that reflects the relative seriousness of individual offences and tracks changes in crime severity. It was first introduced in 2009 and was developed at the request of the policing community to address limitations to the traditional Crime Rate. Each criminal offence is given a relative weight which is used to formulate the overall crime severity for each Canadian community.
For 2018, Statistics Canada has compiled a list for 321 police services that provide service to communities with a population of over 10,000. As can be seen in the attached document, the urban ward of Port Hope shows a population of 13,860 with an overall crime severity rate of 37.78. This is a combination of violent crime rate and non-violent crime rate. Port Hope (urban) ranks at 259 out of 321 which places this community near the bottom for overall crime
As can be seen in the document, Port Hope ranks very well in both recorded crime type categories illustrating the overall relative safety that our community enjoys.
END