Welcome to Port Hope Police Service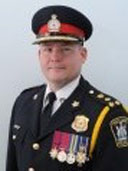 I would like to welcome you to the Port Hope Police Service's website. Here you will find links and other information such as our services to the public, crime prevention and our latest press releases to assist us to stay connected to our residents and visitors alike.
Our police officers and civilian support staff are very proud to provide excellent community-based policing services to this great Municipality. We work hard every day to ensure the safety and quality of day-to-day life expected by the citizens of Port Hope.
---
News
POSTED |
June 21, 2019 - S/SGT. K. ANDREWS
UPDATE TO ATTEMPTED MURDER
Mischief to vehicle
On the 17th of November 2018 Port Hope Police were called to a Rapley Blvd residence after the owner noted her vehicle had been scratched. The vehicle sustained approximately $500.00 damage. There is no information on suspects.
In separate cases there have been several reports of vehicles being egged. Police received 3 reports on the 15t of November occurring in the Crossley Drive/Centennial area. Other areas affected in early November were the Rapley Blvd subdivision. No damage to the vehicles was reported.
Break, Enter and Theft
On the 19th of November Port Hope Police were called to an establishment in the Wellington Street/Phillips Road area regarding a break and enter. Information was received that culprits entered the So Clean Laundry Mat and caused damage to some property inside. A change machine was vandalized and money in it was removed. Port Hope Police are checking surveillance images possibly captured in the area for information on suspects. Anyone with information is asked to call Port Hope Police or Crime Stoppers.