Welcome to Port Hope Police Service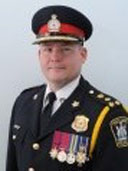 I would like to welcome you to the Port Hope Police Service's website. Here you will find links and other information such as our services to the public, crime prevention and our latest press releases to assist us to stay connected to our residents and visitors alike.
Our police officers and civilian support staff are very proud to provide excellent community-based policing services to this great Municipality. We work hard every day to ensure the safety and quality of day-to-day life expected by the citizens of Port Hope.
---
News
Media release
June 19, 2019
Impaired Operation and Failing to Comply
A 21 year old male was arrested and charged with Impaired operation offences after a citizen reported observing the male operating his vehicle erratically and at high rates of speeds on Bedford Street, Port Hope. An hour later a resident reported this same male attended her home with a beer in his hand looking to speak to her son who he had a no contact order with.
At 9:06 pm Kyle Daniels was arrested on Lavinia Street, Port Hope operating his vehicle. Daniels was charged with Impaired offences, Failing to Comply with a court order, and two Provincial offence charges.
Port Hope Police want to remind the Community if you are drinking or using drugs DO NOT DRIVE.