Welcome to Port Hope Police Service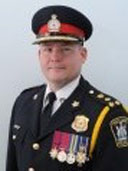 I would like to welcome you to the Port Hope Police Service's website. Here you will find links and other information such as our services to the public, crime prevention and our latest press releases to assist us to stay connected to our residents and visitors alike.
Our police officers and civilian support staff are very proud to provide excellent community-based policing services to this great Municipality. We work hard every day to ensure the safety and quality of day-to-day life expected by the citizens of Port Hope.
---
News
POSTED |
June 10, 2019 - PHPS
Media Release
Motor Vehicle Collision(s)/Man arrested on warrants

MVC FTR
Port Hope Police are looking for a vehicle and driver that left the scene of after an accident. On June 8th shortly after 8:00pm a vehicle was eastbound on Jocelyn Street west of Crossley Road and swerved into the westbound lane striking the guard rail and continued eastbound. Approximately 11 posts supporting the guard rail were broken as a result of the collision. Police are looking for a Chevrolet Malibu described as green or grey in colour. Anyone with information is asked to call Port Hope Police or email phps@phps.on.ca.
Three vehicle collision results in charges.
A Port Hope woman has been charged with careless driving after Police responded to a 3 vehicle collision on Jocelyn Street and Victoria Street. On June 4th shortly before 3:00pm the woman was southbound on Victoria Street in her vehicle and stopped at the stop sign. She then entered the intersection into the path of an eastbound vehicle. The vehicle collided into the right side of the woman's vehicle pushing her vehicle into another vehicle that was stopped northbound Victoria Street waiting for traffic to clear. The damage to the southbound and eastbound vehicles was severe. No injuries were reported to Police.
Man arrested on warrants.
A 40 year old man wanted on warrants for offences in 2018 was arrested in Durham Region. On the 7th of June Port Hope officers attended at the Oshawa Courthouse to escort the man back to Port Hope. Darren Michael Meany is charged with 2 counts of failing to appear in court on original charges of theft of a motor vehicle, and fraudulent use of credit card. He was held in custody for a show cause hearing.
END