Welcome to Port Hope Police Service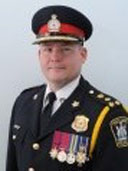 I would like to welcome you to the Port Hope Police Service's website. Here you will find links and other information such as our services to the public, crime prevention and our latest press releases to assist us to stay connected to our residents and visitors alike.
Our police officers and civilian support staff are very proud to provide excellent community-based policing services to this great Municipality. We work hard every day to ensure the safety and quality of day-to-day life expected by the citizens of Port Hope.
---
News
POSTED |
May 30, 2019 - PHPS
Media Release
Man and woman charged with possession of fentanylPHPS

On Wednesday May 29th 2019 shortly before 2:00pm members of the Port Hope Police Criminal Investigations Unit were conducting a CDSA investigation in the Municipality's east end. A man and woman in a vehicle were stopped by police after the man was observed engaging in what police believed to be drug related activity. The two were arrested at the scene. The woman was in possession of a syringe containing fentanyl and the man was in possession of powdery substance believed to be purple fentanyl. The two were returned to the Port Hope Police Station, processed and released on a promise to appear.
56 year old Glen Wesley Gould and 32 year old Tara Marie Lambert both from Port Hope are charged under the Controlled Drug and Substances Act with possession of a schedule 1 substance. Lambert is also charged with disobeying a court order regarding keeping the peace and being of good behaviour.
END