Welcome to Port Hope Police Service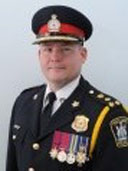 I would like to welcome you to the Port Hope Police Service's website. Here you will find links and other information such as our services to the public, crime prevention and our latest press releases to assist us to stay connected to our residents and visitors alike.
Our police officers and civilian support staff are very proud to provide excellent community-based policing services to this great Municipality. We work hard every day to ensure the safety and quality of day-to-day life expected by the citizens of Port Hope.
---
News
POSTED |
May 29, 2019 - PHPS
Media Release
Man arrested after family dispute.

A 23 year old Port Hope man is facing numerous charges after a family dispute turned violent.
On the 28th of May 2019 shortly after 8:00pm Police were called to a mischief in progress complaint in the Municipality's north end after receiving a report that a man was smashing windows out of a vehicle with a golf club. Police arrived on scene and located the man who was taken into custody. While in custody and in handcuffs the man pushed the officer to the ground and charged at another man known to be his father knocking him over. He then fled the area. Port Hope Police officers arriving on scene located the man and engaged in a short foot pursuit apprehending him a block away from the scene. Investigation revealed that this incident started during a family dispute. The dispute became heated and the man started smashing holes in the residence and then physically assaulted his mother. He then grabbed a golf club and began smashing the windows in her vehicle.
The man is charged with two counts of mischief, two counts of assault, one count of assaulting a police officer with intent to resist detention and escaping lawful custody. He was held in custody pending a show cause hearing. The mother sustained minor injuries as a result of the assault. One police officer reported minor injuries as a result of the assault to resist detention and another police officer sustained minor injuries during the foot pursuit and apprehension of the suspect. No name will be released as the incident involved family members.
END