Welcome to Port Hope Police Service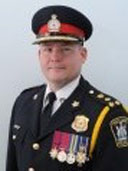 I would like to welcome you to the Port Hope Police Service's website. Here you will find links and other information such as our services to the public, crime prevention and our latest press releases to assist us to stay connected to our residents and visitors alike.
Our police officers and civilian support staff are very proud to provide excellent community-based policing services to this great Municipality. We work hard every day to ensure the safety and quality of day-to-day life expected by the citizens of Port Hope.
---
News
POSTED |
February 2, 2019
Man arrested on warrants woman charged with drug possession after vehicle stop
A 46 year old man was arrested on outstanding warrants Friday Evening after a Port Hope Police officer observed him driving in the Wellington Street Phillips Road area. The officer was familiar the man who had the outstanding warrants and commenced a vehicle stop. The warrants were confirmed and the man was taken into custody.
A female passenger was observed to hastily leave the vehicle once Police initiated the stop. She refused to return when asked and started running away. After a short foot pursuit another officer apprehended her. It was determined that she had conditions to remain out of Port Hope which is the reason she ran from officers. As a result she was arrested. A search incident to arrest revealed she was in possession of crack cocaine with a street value of over $2,000.00. Further, a small quantity of powder cocaine was located in the vehicle.
Both individuals were escorted to the Port Hope Police Station. The agency that held the outstanding warrants attended and took custody of the man. 30 year old Elizabeth Janet Barrett is charged with failing to abide by the conditions of an officer in charge undertaking, possession of cocaine for the purposes of trafficking and possession of cocaine. She was held in custody pending a show cause hearing.