Welcome to Port Hope Police Service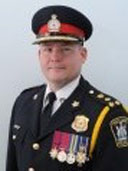 I would like to welcome you to the Port Hope Police Service's website. Here you will find links and other information such as our services to the public, crime prevention and our latest press releases to assist us to stay connected to our residents and visitors alike.
Our police officers and civilian support staff are very proud to provide excellent community-based policing services to this great Municipality. We work hard every day to ensure the safety and quality of day-to-day life expected by the citizens of Port Hope.
---
News
POSTED |
May 16, 2021 - K Andrews Port Hope Police
EMCPA charges
PHPS
Emergency Management and Civil Protection Act Charges
On Saturday May 15, 2021, four (4) men were charged under the Emergency Management and Civil Protection Act. Although fishing is permitted during the current stay-at-home order fishing is to be done locally. You should not be travelling outside your community to fish in another community. As a result four men who appeared to be hiding were all issued a provincial offence notice under the EMCPA. The parties were from North York, Toronto, Woodbridge and Markham, Ontario. Port Hope Police will not be stopping a pedestrian or vehicle solely for the purpose of asking where you are from, but we will lay charges if found in contravention of the stay-at-home-orders. The provincial offence notice carries a fine $880.00 dollars.
If you feel you or someone you know could use some help during these difficult times Port Hope Police can offer mental health help through our Mental Health Engagement and Response Team (MHEART). Please reach out to us at 905-885-8123, or 911, or email phps@phps.on.ca. We want to help you.
If you have a crime to report to please call 905-885-8123, or email phps@phps.on.ca or call Crime Stoppers at 1- 800-222-TIPS (8477) .
Stay home be safe!
Follow Port Hope Police on twitter, Instagram and Facebook