Welcome to Port Hope Police Service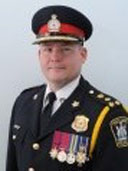 I would like to welcome you to the Port Hope Police Service's website. Here you will find links and other information such as our services to the public, crime prevention and our latest press releases to assist us to stay connected to our residents and visitors alike.
Our police officers and civilian support staff are very proud to provide excellent community-based policing services to this great Municipality. We work hard every day to ensure the safety and quality of day-to-day life expected by the citizens of Port Hope.
---
News
POSTED |
November 9, 2020 - K Andrews Port Hope Police
Impaired Driving
PHPS

Operation while Impaired
A driver reported to be a sleep at the wheel of his vehicle at the Tim Horton's drive through led to the arrest of Jesse James Harrison age 30 from Colborne Ontario. Port Hope Police responded to the call and observed Harrison with his head slumped over the wheel and his eyes closed. Harrison was arrested at around 12:30 pm November 7th, 2020 for operation while impaired by alcohol and drugs. Harrison was released on an appearance notice for court on December 16, 2020
Port Hope Police want to remind citizens to help keep the roads safe. You can do this by planning ahead for a sober ride home. Port Hope Police will be conducting dedicated R.I.D.E. programs as we approach the holiday season.
Theft of Gas
A male operating a grey Chevrolet Silverado filled his truck with gas at the cost of $84.27 and left without paying on November 7, 2020 at around 7:29 am. The truck had no front or rear plates. A white male wearing a black hat, blue facemask, black t-shirt, blue jeans, and brown work boots made no attempt to pay for the gas. If you know this person or truck please call us at 905-885-8123 extension 142, or contact Crime Stoppers 1-800-222- TIPS ( 8477) always Anonymous And Secure or by email phps@phps.on.ca
End
Follow Port Hope Police on twitter, Instagram and Facebook