Welcome to Port Hope Police Service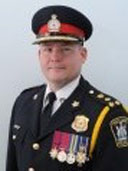 I would like to welcome you to the Port Hope Police Service's website. Here you will find links and other information such as our services to the public, crime prevention and our latest press releases to assist us to stay connected to our residents and visitors alike.
Our police officers and civilian support staff are very proud to provide excellent community-based policing services to this great Municipality. We work hard every day to ensure the safety and quality of day-to-day life expected by the citizens of Port Hope.
---
News
POSTED |
October 7, 2020 - PHPS
Media Release
7th October 2020

Domestic dispute results in charges
A 34 year Port Hope man is facing charges after Port Hope Police were called to a disturbance in the Municipality's east end. On the 4th of October shortly after 1:00pm a neighbor witnessed an altercation between a man and a woman and called police because it became physical. The man left the area prior to Police arriving. After an investigation was conducted the man, who is described as the woman's former partner, was arrested at his home shortly after. He is charged with assault level one. No names will be released to protect the identity of the victim.
Man charged with Obstructing Police.
A 23 year old man is facing charges after a Port Hope Police Officer investigated him in a motor vehicle. On the 6th of October before noon the officer commenced a traffic stop in the Municipality's east end. When the Police Officer asked the driver identify himself the man gave a false name. Further investigation revealed the man's true identity and the fact warrants were outstanding with Kawartha Lakes Police Service for several criminal offences involving a firearm dating back to February 2020. Sanjeep Ketharalingam is charged with obstructing a peace officer and will appear in court later in November. Officers from the Kawartha Lakes Police Service attended the Port Hope Station and took custody of the man to be processed on their charges
End
Follow Port Hope Police on twitter, Instagram and Facebook