Welcome to Port Hope Police Service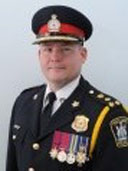 I would like to welcome you to the Port Hope Police Service's website. Here you will find links and other information such as our services to the public, crime prevention and our latest press releases to assist us to stay connected to our residents and visitors alike.
Our police officers and civilian support staff are very proud to provide excellent community-based policing services to this great Municipality. We work hard every day to ensure the safety and quality of day-to-day life expected by the citizens of Port Hope.
---
News
POSTED |
August 17, 2020 - PHPS
Media Release
17 Aug 2020

A 14 year old young person is in custody on charges of Arson, Attempted Murder and Mischief Endangering Life. Early Sunday morning August 16, 2020 Port Hope Police responded to an arson call. It was learned that 14-year-old disabled the fire alarms in the residence, unplugged the phones, and attempted to start a fire by placing paper and fire accelerant chemicals throughout the residence. The youth was remanded into custody and will appear by video on August 18, 2020.
End
Follow Port Hope Police on twitter, Instagram and Facebook