Welcome to Port Hope Police Service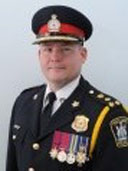 I would like to welcome you to the Port Hope Police Service's website. Here you will find links and other information such as our services to the public, crime prevention and our latest press releases to assist us to stay connected to our residents and visitors alike.
Our police officers and civilian support staff are very proud to provide excellent community-based policing services to this great Municipality. We work hard every day to ensure the safety and quality of day-to-day life expected by the citizens of Port Hope.
---
News
POSTED |
August 6, 2020 - PHPS
Media Advisery
06 Aug 2020

The Port Hope Police Service is advising residents that some social media postings indicating an incident of an abduction and sexual assault of a woman in Port Hope early Wednesday morning are not accurate. Port Hope Police Service is investigating an incident that was reported to them early Wednesday morning but has determined through the investigation that no abduction or sexual assault occurred. Police were receiving inquiries from local media enquiring if such an incident occurred after they (the media) received information on social media about it. Port Hope Police are advising that there are no safety concerns for residents. Further anyone with information is asked to contact Port Hope Police at 905-885-8123 Ext 142 or email confidentially at phps@phps.on.ca.
End
Follow Port Hope Police on twitter, Instagram and Facebook