Welcome to Port Hope Police Service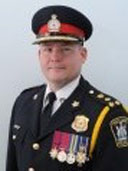 I would like to welcome you to the Port Hope Police Service's website. Here you will find links and other information such as our services to the public, crime prevention and our latest press releases to assist us to stay connected to our residents and visitors alike.
Our police officers and civilian support staff are very proud to provide excellent community-based policing services to this great Municipality. We work hard every day to ensure the safety and quality of day-to-day life expected by the citizens of Port Hope.
---
News
POSTED |
July 20, 2020 - PHPS
Head on collision results in charges.
Media Release

On the 17th of July shortly after 12:00pm emergency services responded to a head on collision on Ontario Street south of Hope Street. When officials arrived on scene two vehicles were observed, one on the east side walk of Ontario Street , both vehicles with extensive front end damage. The driver of a Black Kia was noted to have sustained injuries to his face and was transported to Northumberland Hills Hospital by EMS. The driver of a Pontiac Montana Van did not require medical attention. Investigation revealed the black Kia was northbound on Ontario Street when the Pontiac van drifted over into the northbound lane causing a head on collision. Further investigation revealed the driver of the van was prohibited from driving. 52 year old Michael Illingworth is charged with operation of a motor vehicle while prohibited and careless driving. He appears in Court later in September. Both vehicles were towed from the scene. The portion of Ontario Street between Ellen Street and Hope Street was closed for approximately 1 hour while the scene was investigated.
Follow Port Hope Police on twitter, Instagram and Facebook