Welcome to Port Hope Police Service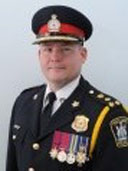 I would like to welcome you to the Port Hope Police Service's website. Here you will find links and other information such as our services to the public, crime prevention and our latest press releases to assist us to stay connected to our residents and visitors alike.
Our police officers and civilian support staff are very proud to provide excellent community-based policing services to this great Municipality. We work hard every day to ensure the safety and quality of day-to-day life expected by the citizens of Port Hope.
---
News
POSTED |
July 17, 2020 - PHPS
shopkeeper interrupts shoplifters
17 July 2020

Two young persons are facing charges after Port Hope Police responded to a central Port Hope convenience store as a result of shoplifting complaint. On the 15th of July shortly before 10:00pm two youths entered the store, each selected a bong, and then attempted to leave the store without paying for them. The store owner confronted the youths who both fled the store. As they were fleeing one youth fell. The shopkeeper caught up to the fallen youth who brandished a knife and threatened him. The youth then dropped the knife and was escorted back to the store by the clerk who then he called Port Hope Police. Police arrived on scene and took custody of the youth and recovered the knife. The second youth was located a short distance away by a Port Hope Police Officer who was searching the area for the second suspect. Both bongs were recovered. A 13 year old male is charged with theft under $5000.00, possession of a weapon dangerous to the public peace, assault with a weapon and threatening bodily harm. A 17 year old male is charged with theft under $5000.00 and possession of a controlled substance. Both have been released pending court appearances later in 2020. No names will be released in order to protect the identity of the youths as authorized under the Youth Criminal Justice Act.
Follow Port Hope Police on twitter, Instagram and Facebook