Welcome to Port Hope Police Service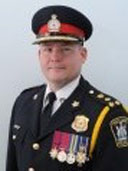 I would like to welcome you to the Port Hope Police Service's website. Here you will find links and other information such as our services to the public, crime prevention and our latest press releases to assist us to stay connected to our residents and visitors alike.
Our police officers and civilian support staff are very proud to provide excellent community-based policing services to this great Municipality. We work hard every day to ensure the safety and quality of day-to-day life expected by the citizens of Port Hope.
---
News
POSTED |
June 19, 2020 - PHPS
Friday's Update
19 June 2020

Theft from vehicle.
Port Hope Police remind residents to make sure their vehicles are locked when not in use. A Francis Street resident discovered her vehicle was ransacked on the 17th of June and small change and cigarettes were stolen. The owner believed the vehicle was locked however there were no signs of forced entry or damage to the vehicle. Police suggest making it a routine to ensure vehicles are locked prior to retiring for the evening.
Not so savvy thieves steal a parking meter.
Port Hope Police are investigating a theft of a parking meter from Johns Street. Police responded to the area shortly after 10pm the 18th of June when a witness reported people loading the meter into the back of a a black pick-up truck. The meter had been damage earlier as a result of being hit by a vehicle. The truck was seen leaving the area heading east on Augusta Street. The pick-up truck had a black rack on the back with a light bar. Police feel the "not so savvy thieves" will not be rewarded as there has been free parking downtown since the pandemic started at the end of March.
Follow Port Hope Police on twitter, Instagram and Facebook