Welcome to Port Hope Police Service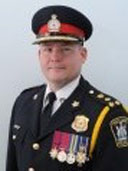 I would like to welcome you to the Port Hope Police Service's website. Here you will find links and other information such as our services to the public, crime prevention and our latest press releases to assist us to stay connected to our residents and visitors alike.
Our police officers and civilian support staff are very proud to provide excellent community-based policing services to this great Municipality. We work hard every day to ensure the safety and quality of day-to-day life expected by the citizens of Port Hope.
---
News
POSTED |
June 17, 2020 - PHPS
Press Release
17 June 2020

Man charged after domestic incident reported
A 28 year old man is facing charges after Port Hope Police received a report of a domestic dispute that occurred on June 7th. The matter was reported to Police on June 12. Information was received that the man and the victim described as his common law spouse were involved in an argument on that Sunday during which the accused smashed a T.V screen. When the victim went to leave that area of the residence, the accused grabbed her by the arms and pinned her down and continued yelling at her. He eventually let her go and she went to a different area of the central Port Hope residence. On the 12th of June the man turned himself into Port Hope Police and was arrested. He is charged with assault and mischief and appears in court at the end of July. No names will be released to protect the identity of the victim.
Charges laid after pedestrian is struck by a motor vehicle.
A Port Hope woman is facing charges under the Highway Traffic Act. Shortly after 10am two pedestrians were crossing the street at Mill and Peter when a vehicle turning from Mill on to Peter struck one of the pedestrians as they were crossing. The woman was transported to Northumberland Hills Hospital and treated for minor injuries. Police spoke with witnesses at the scene. The 75 year old driver was charged with failing to yield to pedestrians on roadway and issued a Provincial Offence Notice.
Wearing a mask when driving a motor vehicle
Port Hope Police are requesting people who choose to wear a surgical mask when driving to make sure their vision is not obscured. Wearing of a surgical mask with sun glasses or glasses could cause the glasses to fog up. Medical health experts suggest it is not necessary to wear a mask if you are driving in your vehicle alone or with people from the same house hold. See the below link from the Ontario Government on the proper utilization of masks.
https://www.ontario.ca/page/face-coverings-and-face-masks
Follow Port Hope Police on twitter, Instagram and Facebook