Welcome to Port Hope Police Service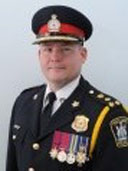 I would like to welcome you to the Port Hope Police Service's website. Here you will find links and other information such as our services to the public, crime prevention and our latest press releases to assist us to stay connected to our residents and visitors alike.
Our police officers and civilian support staff are very proud to provide excellent community-based policing services to this great Municipality. We work hard every day to ensure the safety and quality of day-to-day life expected by the citizens of Port Hope.
---
News
POSTED |
October 1, 2019 - PHPS
Scam Alert
01 October 2019

Scam, Shams and Cons
Port Hope Police are warning the public to be aware of increased activity in scam phone calls. Many Port Hope residents report getting phone calls indicating that they are in trouble or warrants are out for their arrest unless they call a number and speak with someone. Phone calls about security breaches and or the illegal use of Social Insurance Numbers along with CRA refunds. Port Hope Police took 11 complaints over the last few days. There were also a few attempts on the grandparent or emergency scam over the last week. One person received a Facebook message on a rebate scam for $50,000.00 if they purchase online Walmart visa pre-paid cards. In all cases the messages were not responded to and no resident was out any money.
Follow Port Hope Police on Twitter @PortHopePolice and on Face Book and Instagram