Welcome to Port Hope Police Service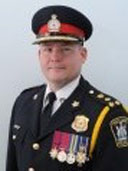 I would like to welcome you to the Port Hope Police Service's website. Here you will find links and other information such as our services to the public, crime prevention and our latest press releases to assist us to stay connected to our residents and visitors alike.
Our police officers and civilian support staff are very proud to provide excellent community-based policing services to this great Municipality. We work hard every day to ensure the safety and quality of day-to-day life expected by the citizens of Port Hope.
---
News
POSTED |
September 30, 2019 - PHPS
Media Release
30 Sepember 2019

Driving while prohibited yields a criminal charge.
A 25 year old Courtice man is facing criminal charges after Port Hope Police investigated him as a result of a Highway Traffic Act offence. On the 25th of September shortly after 8:00am Police stopped the man who was driving on Molson St. Subsequent investigation revealed the man was prohibited from driving as a result of a criminal code conviction. Tyler Dymond is charged with operation of a conveyance while prohibited. He appears in court in late October 2019. His vehicle was impounded for 45 days.
Break and Enter(s)
Port Hope Police are investigating two more break and enters that occurred last week and over the weekend. On the 26th of September shortly after 6:00am Police were called to Basils Market Restaurant on Ridout Street after the owner noted the front door window smashed out. Investigation revealed culprits entered the store and left very quickly thereafter taking nothing. On the 29th of September at 8:40am Port Hope Police were called to Little Caesars on Toronto Road after it was revealed someone had pried the front door open. Once inside and attempt was made to remove the safe. Culprits left the scene quickly thereafter. Nothing was noted to be taken. Police are checking CCTV in the area to see if any information can be gleaned on possible suspects. Anyone with information on these incidents is asked to call Port Hope Police @ 905-885-8123, email phps@phps.on.ca or contact Crime Stoppers.
Charges laid after Motor Vehicle Collision
On the 26th of September at 11:00am Port Hope Police officers responded to a collision on Peter St east of Hope Street. Investigation revealed a truck was stopped eastbound waiting to turn into a private driveway. One vehicle stopped westbound to allow him to do this. The man attempted to execute the turn when a vehicle that was west bound in the curb lane collided into the truck. Damage to both vehicles was moderate to severe. No Injuries were reported. The man 30 year old man is charged with making an improper left turn. Police advise drivers when turning left at uncontrolled areas on multi-lane roads to be sure both opposite lanes are clear even when one vehicle in a lane yields the right away. Police also advised drivers on multi-lane roads not to yield to drivers wanting to turn left for the same reason, continue on through and allow them to turn when safe to do so and both lanes are clear.
Follow Port Hope Police on Twitter @PortHopePolice and on Face Book and Instagram