Welcome to Port Hope Police Service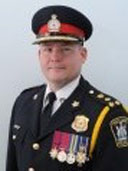 I would like to welcome you to the Port Hope Police Service's website. Here you will find links and other information such as our services to the public, crime prevention and our latest press releases to assist us to stay connected to our residents and visitors alike.
Our police officers and civilian support staff are very proud to provide excellent community-based policing services to this great Municipality. We work hard every day to ensure the safety and quality of day-to-day life expected by the citizens of Port Hope.
---
News
POSTED |
September 25, 2019 - PHPS
Media Release
25th September 2019

Police investigating early morning break and enter.
On the 25th of September 2019 shortly before 4:00am Port Hope Police responded to a break and enter at the Dreamers Café on Queen Street. Upon arrival Police observed entry was made into the café by smashing the Queen Street side glass entrance door. Once inside culprit(s) removed a small amount of currency and left the store last seen leaving in a dark coloured vehicle heading south bound on Ontario Street. Police are continuing the investigation and working with neighbouring Police Agencies who may have also had premises targeted by thieves. Anyone with information is asked to call Port Hope Police @905-885-8123, email phps@phps.on.ca or call crime stoppers.
River Patrols
Port Hope Police Officers are continuing dedicated river patrols along the Ganaraska River. So far in September Police Officers have conducted 80 hours of foot patrol, have laid 16 charges under the Fish and Wildlife Conservation Act, responded to 44 complaints about fishing and laid 3 charges under the night fishing ban by-law. Officers have also checked over 300 licences. The dedicated patrols continue until the end of September.
Follow Port Hope Police on Twitter @PortHopePolice and on Face Book and Instagram