Welcome to Port Hope Police Service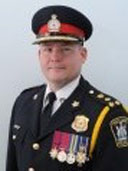 I would like to welcome you to the Port Hope Police Service's website. Here you will find links and other information such as our services to the public, crime prevention and our latest press releases to assist us to stay connected to our residents and visitors alike.
Our police officers and civilian support staff are very proud to provide excellent community-based policing services to this great Municipality. We work hard every day to ensure the safety and quality of day-to-day life expected by the citizens of Port Hope.
---
News
POSTED |
September 16, 2019 - PHPS
Weekend Update
16 September 2019

Bail Violation
A 52 year old Durham Region woman is facing charges after officers on Foot Patrol responded to a complaint at the Fall Fair about suspicious activity. Shortly after 9:00pm on the 14th of September Port Hope Police investigated the woman and as a result learned she was on an undertaking with conditions for other charges. Police found her breaching on of the conditions involving the consumption of alcohol. She was taking into custody and later released. Dorothy HAMRE is charged with failing to abide by the conditions of an officer in charge undertaking. She appears in court in October.
Breach of prohibition order
A 48 year old man is in custody after police received information he was in breach of a court order that compelled him to stay away from anyplace where children under the age of 16 would be or likely be. On the 14th of September shortly after 5:00pm the man was noted to be at the Fall Fair. Port Hope Police Officers who were on patrol at the fair located him and arrested him. Timothy Irving Scriver is charged with failing to abide by a prohibition order and breach of section 810 recognizance. He was held in custody for a show cause hearing.
Fall Fair
For the weekend Port Hope Police Officers were on focused patrol at the fall fair. 20 Calls for service was generated at the Fairgrounds. There were a few minor disturbances at the fairgrounds where Police intervened and diffused by sending people on their different ways. One woman reported a theft of a purse while she was at the fair. Over the weekend Port Hope Police took 77 Calls for service.
Man arrested for public intoxication.
A 28 year old man was arrested shortly after midnight on the 14th of September when Police observed a disturbance on Walton Street. 2 groups of individuals were involved in an altercation that was diffused by Police. However the man, who was intoxicated, continued causing a disturbance by yelling and swearing and using derogatory language. He was subsequently arrested for public intoxication. He as escorted to the Port Hope Police Station where he was held until sober. The man was fined $65.00.
Ganaraska River Patrols
Port Hope Police are continuing dedicated patrols along the Ganaraska River. Officers have conducted 54 hours of patrol and laid 6 charges under the Fish and Wildlife Conservation Act and the Ontario Fish Registry. Two (2) by-law tickers have been issued for fishing at night and Police have checked over 250 licenses. The patrols continue through to the end of September.
Follow Port Hope Police on Twitter @PortHopePolice and on Face Book and Instagram