Welcome to Port Hope Police Service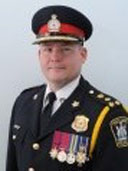 I would like to welcome you to the Port Hope Police Service's website. Here you will find links and other information such as our services to the public, crime prevention and our latest press releases to assist us to stay connected to our residents and visitors alike.
Our police officers and civilian support staff are very proud to provide excellent community-based policing services to this great Municipality. We work hard every day to ensure the safety and quality of day-to-day life expected by the citizens of Port Hope.
---
News
POSTED |
October 19, 2020 - PHPS
Media Release
Mischiefs and Thefts

Mischiefs and Thefts
A number of mischiefs have been reported over the last week. On the 14th of October a Peacock Blvd resident noticed several dents on his Cadillac as it was parked on the roadway overnight 13/14 of October. The dents were intentionally done located on the right side of the vehicle damage estimated in excess of a $1500.00
Several reports of theft of pumpkins have been called into Police. On the 17th of October a Centennial Drive man noticed that someone smashed a pumpkin on a vanity that was left at the end of the yard for someone to take. The vanity was destroyed as a result. On the 18th of October a Peacock Blvd resident reported 3 pumpkins taken off the front porch. Later Ravine Drive resident reported a pumpkin had been thrown at his 2020 GMC truck denting the driver side rear quarter panel. Damage is estimated at $1500.00
On Moore Drive on the 18th of October Port, Hope Police Officers were called to reports of pumpkins being smashed on the driveways. There were also several pumpkins that had racial slurs written on them. These were pumpkins stolen from various locations but a few may not have been reported to Police. Police are continuing the investigation gathering CCTV information. Anyone with information is asked to call Port Hope Police at 905-885-8123 ext. 142, email phps@phps.on.ca or contact crime stoppers.
Thefts from unlocked vehicles
Port Hope Police are requesting residents to make sure they lock their vehicles when not in use. On the 18 of October Police were called to a Walton St apartment complex when someone reported a person in the parking lot going up to vehicles and entering those that were unlocked. The male was described as Caucasian wearing a black t-shirt and grey shorts. Police checked the area for the male with but he could not be located. Small change was taken from a vehicle. Another Walton St resident reported his vehicle entered and prescription sunglasses taken and 4 new dress shirts. Police believe the thefts to be related. Anyone with information is asked to call Port Hope Police at 905-885-8123, email phps@phps.on.ca or contact crime stoppers.
End
Follow Port Hope Police on twitter, Instagram and Facebook