Welcome to Port Hope Police Service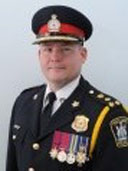 I would like to welcome you to the Port Hope Police Service's website. Here you will find links and other information such as our services to the public, crime prevention and our latest press releases to assist us to stay connected to our residents and visitors alike.
Our police officers and civilian support staff are very proud to provide excellent community-based policing services to this great Municipality. We work hard every day to ensure the safety and quality of day-to-day life expected by the citizens of Port Hope.
---
News
POSTED |
July 7, 2019 - PHPS
12 year old boy found safe
Update

PORT HOPE A 12 YEAR OLD BOY LOCATED
Thanks to an observant citizen who saw the twitter feed on the Port Hope Police twitter,the 12 year old boy and the vehicle haven been located in Port Hope. Port Hope Police wish to thank this Newcastle resident and everyone else who were helping out by retweeting the twitter post.
END