Welcome to Port Hope Police Service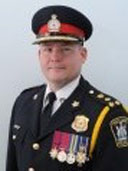 I would like to welcome you to the Port Hope Police Service's website. Here you will find links and other information such as our services to the public, crime prevention and our latest press releases to assist us to stay connected to our residents and visitors alike.
Our police officers and civilian support staff are very proud to provide excellent community-based policing services to this great Municipality. We work hard every day to ensure the safety and quality of day-to-day life expected by the citizens of Port Hope.
---
News
POSTED |
June 28, 2019 - PHPS
Media Release
28th June 2019

Vehicle reported stolen deemed false
A 31 year old Cobourg man is accused of public mischief after reporting to Port Hope Police that a car he was driving was stolen. On the 26 of May 2019 shortly after 3:00am the man reported he stopped his vehicle on Croft Street and exited it leaving it running. At that time two men in a white van pulled up and one man jumped in the vehicle and drove it away at a high rate of speed. The vehicle was found a short distance away in a ditch. Police commenced an investigation into the matter concluding that what was reported did not happen. Joshua Houston is charged with public mischief, taking a motor vehicle without consent and a number of driving offences.
Assault charge laid
A 35 year old woman is facing charges after Port Hope Police were called to a down town residence regarding a neighbour dispute on the 26th of June in the evening hours. Police officers were told that an argument occurred between the two neighbours when the woman physically assaulted the male neighbour. Janet Groves is charged with common assault. She appears in court in August.
Man charged with Break and Enter.
A Port Hope man has been charged with breaking and entering after a local business discovered the theft of some tires. On the 27th of June representatives from Standard Auto, located on Peter Street, notice four tires missing from a storage area located on the property. Police identified a male as a person of interest and commenced an investigation. The man was arrested later in the day and the tires were recovered. 20 year old Brodie MILLS is accused of break and enter, theft under $5000.00 and possession of stolen property. He appears in court later in July.
END