Welcome to Port Hope Police Service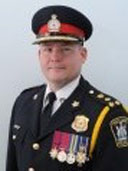 I would like to welcome you to the Port Hope Police Service's website. Here you will find links and other information such as our services to the public, crime prevention and our latest press releases to assist us to stay connected to our residents and visitors alike.
Our police officers and civilian support staff are very proud to provide excellent community-based policing services to this great Municipality. We work hard every day to ensure the safety and quality of day-to-day life expected by the citizens of Port Hope.
---
News
Media Release June 27, 2022

Theft from Vehicles
On the 15th of June 2022 overnight- Port Hope Police responded to reports of thefts from unlocked vehicles in the Burnham Street area. Items stolen included a woman's purse, wallet, cash and shoes. Residents are reminded to lock their vehicles and take any valuables inside or lock them in the trunk out of sight.
Neighbor Dispute
Port Hope Police responded to a neighbor dispute on Margaret Street on the 19th of June, where surveillance cameras were damaged. As a result, a 67-year-old Port Hope male was arrested and charged with uttering threats, Mischief under $5000. He was released from custody for court on the 3rd of August 2022.
Warrant
On the 19th of June 2022, a 57-year-old Port Hope male was arrested on an outstanding warrant held by the OPP. Investigation revealed the male had been released from Oshawa court to abide by conditions of his release. Port Hope Police charged the male with Failing to comply with a release order (reside with his surety). He was held in custody pending a bail hearing.
Warrant
While on general patrol on the 20th of June 2022, Port hope Police recognized a 44-year-old male known to them as wanted by the Cobourg Police Service for Drug and Weapon related charges. The male was arrested without incident and turned over to the Cobourg Police Service.
Recovered Property from Break and Enter
On the 21st of June 2022 a male walking the trail behind Dr Hawkins School located electronics. Police responded and learned that the property had been stolen from Ganaraska Trail Public School on the 6th of June. The property was returned to school officials
Operation of a Conveyance while Impaired-Alcohol or Drugs
On the 25th of June 2022, a 31-year-old Port Hope female was observed by witnesses driving erratically in the area of Ontario and Jocelyn St. A concerned motorist flagged down police on patrol and advised them of his observations. The female was located operating the vehicle on Helm Street, where it narrowly avoided colliding with a telephone pole. Investigation revealed the female driver was impaired by drugs and was also recently released from the courts for a similar offence. She was also charged with driving while prohibited and was released for court on the 13th of July 2022.
Anyone with information on a crime are asked to contact Port Hope Police at 905-885-8123 or Crime Stoppers at 1-800-222-TIPS