Welcome to Port Hope Police Service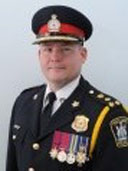 I would like to welcome you to the Port Hope Police Service's website. Here you will find links and other information such as our services to the public, crime prevention and our latest press releases to assist us to stay connected to our residents and visitors alike.
Our police officers and civilian support staff are very proud to provide excellent community-based policing services to this great Municipality. We work hard every day to ensure the safety and quality of day-to-day life expected by the citizens of Port Hope.
---
News
POSTED |
June 29, 2020 - PHPS
Media Release
29 June 2020

The Port Hope Police Service is reminding residents to never give personal information to people they do not know. On the 19th of June a Port Hope resident received a phone call from an unknown person who told him his social insurance card was compromised and is being used to create false bank accounts. He was then asked for his social insurance number which he gave. The person then terminated the call. The resident, realizing this was a scam contacted Police. The man's SIN has now been flagged as compromised. Police say this is a common scam used to steal identity and for people not to provide this information when asked.
A 26 year old Port Hope man is charged with impaired operation of a motor vehicle after Port Hope Police officers were alerted to a possible impaired driver. On the 19th of June, 10:25pm, Police were told of the type of vehicle and the direction it was going after the driver left a local establishment. Police were in the area at the time and located the driver on Alexander St. Police commenced an investigation into the sobriety of the driver who was eventually arrested. Kyle Mitchell is charged with impaired operation of a conveyance and operation of a conveyance with excess blood alcohol. He appears in court later in August.
A 46 year old Port Hope man is facing charges after Port Hope Police were called to a north end residence in the early morning hours of June 27 regarding a threatening. When Police arrived on scene the man had left the residence. Investigation revealed that during an argument with a female companion the man threatened her. He was later arrested when he turned himself into to Police at the Port Hope Police Service where he was charged with uttering a threat. No names will be released in order to protect the victim's identity.
A 28 year old Durham Region man is facing a charged of failing to abide by the conditions of undertaking after he repeatedly contacted a person he was under court order to not contact. Port Hope Police were called to the central Port Hope resident after the victim received emails, several calls and a delivery from the man on June 27th in the evening hours. The "gifts" prompted the victim to call Police. The man was arrested on the 28th of June when he turned himself into Police. He appears in court at the end of July. No names will be released.
Follow Port Hope Police on twitter, Instagram and Facebook