Welcome to Port Hope Police Service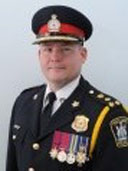 I would like to welcome you to the Port Hope Police Service's website. Here you will find links and other information such as our services to the public, crime prevention and our latest press releases to assist us to stay connected to our residents and visitors alike.
Our police officers and civilian support staff are very proud to provide excellent community-based policing services to this great Municipality. We work hard every day to ensure the safety and quality of day-to-day life expected by the citizens of Port Hope.
---
News
POSTED |
March 16, 2020 - PHPS
Media Release
16th March 2020

Port Hope Police Response to Covid 19
Port Hope Police officers will continue to respond to calls for service as will other emergency services operating in Port Hope. If you need Police assistance please provide the Police Dispatcher information If you have a fever and/or new onset of cough or difficulty breathing
AND/OR
In the 14 days before symptom onset, you have:
• been to a COVID-19 impacted area, or
• you have been in close contact with a confirmed or probable case of COVID-19, or
• you have been in close contact with a person with acute respiratory illness who has been to a COVID-19 impacted area
Attendance at Station
If you answered yes to any of the above please delay your visit to the station at 55 Fox Road and call 905-885-8123 and select 3 to be transferred to Police Dispatchers.
Screening Services
In Person Background checks will not be taken at the Port Hope Police Station at 55 Fox Road Port Hope until further notice. Background Check Forms are available on line. Visit www.phps.on.ca and click on Services and then Background Checks to submit your form.
Please visit the link below for the 2019 novel coronavirus (COVID 19) self-assessment.
https://www.ontario.ca/page/2019-novel-coronavirus-covid-19-self-assessment
Follow Port Hope Police on twitter, Instagram and Facebook