Welcome to Port Hope Police Service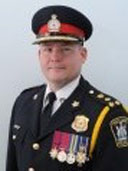 I would like to welcome you to the Port Hope Police Service's website. Here you will find links and other information such as our services to the public, crime prevention and our latest press releases to assist us to stay connected to our residents and visitors alike.
Our police officers and civilian support staff are very proud to provide excellent community-based policing services to this great Municipality. We work hard every day to ensure the safety and quality of day-to-day life expected by the citizens of Port Hope.
---
News
POSTED |
July 29, 2019 - S/Sgt. Andrews
July 25 to July 28
Press Release

As a result of driving without an interlock device Ryan Galbraith was charged with Operation of a motor vehicle while prohibited. Not only is Mr. Galbraith facing new Criminal Charges the vehicle he was operating was towed and impounded for 45 days. Galbraith will appear in court on August 28th, 2019 to answer to the charge.
On Friday July 27th, 2019 a male reported to be 20-30 years of age operating a red Nissan car pulled up beside a couple of youth in the Peacock Blvd. area, and asked them if they wanted a drive. The youth declined and the vehicle left south on Hamilton Twp. Road in the Municipality of Port Hope Ontario.
If you know anyone matching the description of a male who operates a red Nissan please call the Port Hope Police Service .
A 2011 Mercedes 550 was stolen from the Toronto Road car pool lot overnight on July 26th, 2019. The plate number on the Mercedes is ZAID 077. If you see this vehicle please call Port Hope Police .
If you have any information on these incidents please call S/Sgt. Andrews at 905-885-8123 Ext. 142 or Crime Stoppers at 1-800-222-TIPS(8477)